BelloSulf-LS Sulphur 55.16% SC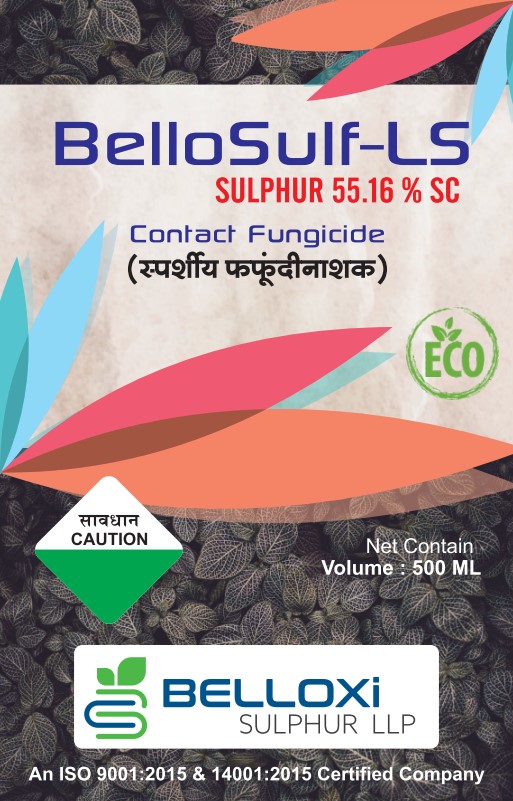 BelloSulf-LS
Sulphur 55.16% SC
Composition:
| | |
| --- | --- |
| Sulphur technical (min purity 99.6%) | 55.44% W/W |
| Polyethylene glycol | 1.44% W/W |
| Surfactants non-ionic Anionic or blend of nonionic & anionic dispersants (naphthalene Based  Nathalie | 5.4% W/W |
| Biocide-preservative | 0.36%W/W |
| Anti-caking agent Bentonide or gum | 0.16%W/W |
| Silicate magnesium | 0.18%W/W |
| Water | 37.02%W/W |
|   |   |
| TOTAL | 100.000%W/W |
Precautions:
Avoid inhalation and skin contact while diluting because of spillages of splashes. Do not mix with bare hands.
The users should use full protective clothing while includes rubber gloves, boots either face shield or dust mask and overall or rubber apron hood or hat.
Antidote: Symptomatic treatment
First Aid:
In case of poisoning, call for a physician immediately, induce vomiting by tickling the back of throat. Wash contaminated skin and irrigate eyes with saline.
Symptoms:
Early symptoms may be any contamination of nausea, vomiting, irritation of eyes and bronchial tubes if inhaled.
Recommendations:
Sulphur 55.16% SC is a suspension concentrate use for a control of powdery mildew of grapes and mango.
Note: Not to be used on crops other than specified on label/leaflet.
Subscribe To Get Special Offer
Let's get Every update At your Doorsteps.