BelloSulf -DF Tebuconazole 10% + Sulphur 65% WG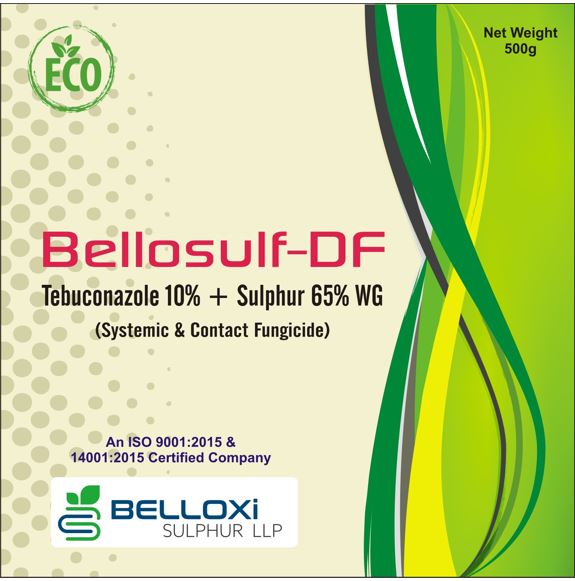 BelloSulf -DF
Tebuconazole 10% + Sulphur 65% WG
Tebuconazole is an active ingredient from the trizole family of fungicide and it is systemic fungicide with protective, creative and eradicative action. It control powdery mildew, fruit root diseases of chili, leaf spot, pod blight disease of soybean. It also control some of the common fungal and disease in plant.
It is helpful against the disease but only use with the proper ratio.if use  in high      quantity compare with actual requirementmay be caused phytotoxicity poisoning to the plant.Some plant are very sensitive soread the labelcarefully before apply it.
Tebuconazole has a residual  effect up to 30 days after  application  spray monthly for  preventive control  of listed disease .but do not apply more than 16  OZ per 1000squre ft.
Tebuconazole Works:
Tebuconazole is a fungicide that is known as a DMI (Dimithylation mhibiting   fungicide) this mean Tebuconazole work by affecting the cell wall of fungiby supportingspore germination and fungus growth it also interfering with the production ergo sterol.
Chemical Composition:
Tebuconazole (AI) :10.00%W/W
Sulphur (AI): 65.00%w/w
Potassium polycarboxyllate phenolsulphonic acidPhenolformaldehyde :2.50%w/w
Urea condensate Na salt: 5.00%w/w
Carboxyl methyl cellulose: 1.15 % w/w
Sodium lignosulfonate :5.50%w/w
Polydimethyle siloxane:0.10%w/w
China clay: QS %.
Total :100.00%W/W
Subscribe To Get Special Offer
Let's get Every update At your Doorsteps.