BelloSulf-DP Sulphur 85% DP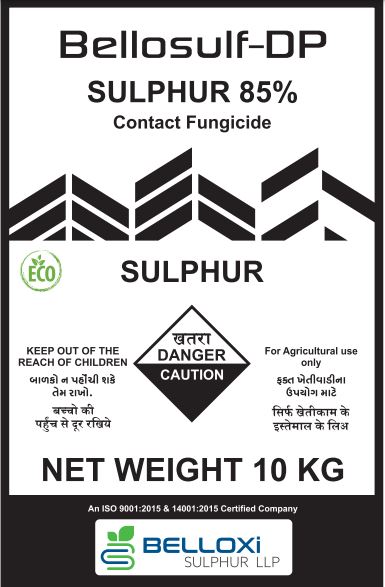 BelloSulf-DP
Sulphur 85% DP
Composition:
Sulphur AI: 85.43% w/w
China Clay: 15.57%w/w
Total: 100.00% w/w
Recommendation:
It is recommended to control powdery mildew on grapes, pea, rubber, cumin & coriander, tobacco, rust on cowpea, moong and pea and tikka leafspot on groundnut crops.
Antidote: Treat Symptomatically
Precautions:
Keep away from food stuff, empty food stuff containers and animal food.
Avoid contact with mouth, eyes and skin.
Avoid inhalation the dust particles, Dust in the direction of wind.
Wash thoroughly the contaminated clothes and part of the body after dusting.
Do not smoke, drink, eat and chew anything while dusting.
Wear full protective clothing while dusting.
Subscribe To Get Special Offer
Let's get Every update At your Doorsteps.